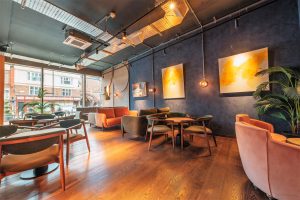 Hotly anticipated new bar-and-restaurant concept, North Light, which is inspired by the creativity, history and community of Chester, is now open.
Open for breakfast, brunch, lunch and dinner, their relaxed social dining menu celebrates sharing the moment and has been designed for all to enjoy.
North Light aims to support the local community, shine a light on up-and-coming artists and champion the city's rich history and unique creative scene. Its website welcomes guests to "eat, drink, work and play in a space that's steeped in history and open to new creative possibilities".
At the heart of the concept, North Light will continually look to emerging regional artists to showcase their work throughout the venue, providing a platform for local talent and creating an ever-evolving look and feel for the site.
The first works on display at the venue have been selected in partnership with Modern Art Chester.
North Light takes its name from the optimal light for creativity, combined with the beautiful light from its unique glass building, the rich history of Northgate and its proud northern location. There's indoor and outdoor seating at the venue, to be enjoyed with views of the city.
To see the full menu and book your table, visit: https://northlight.uk.com/