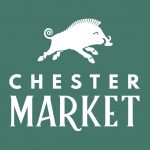 Over eighty percent of the existing Chester Market traders that applied for a place in the new market have been offered a place. These seventeen businesses will be joined by ten new traders, who will be offered a place in the coming days.
A total of twenty-seven traders will be offered a place in the first round. They are all independent businesses, overwhelmingly local and include a mix of established small businesses and recent start-ups. Fifty-three applications were received. All offers are subject to traders concluding the legal details of their leases.
Councillor Richard Beacham, Cabinet Member for Inclusive Growth, Economy and Regeneration, said:
"I have been watching the commentary online over recent days and am saddened by what I have read. We all want the best for Chester Market, it is a jewel our City's crown – both in its current and future form.
"Some businesses that will not be in the new market have opened on the high street and I wish them the very best of luck. I celebrate their success, because we want the market to be an incubator for new businesses, a place where people can safely try new ideas and ultimately grow them into what otherwise might be empty units on our high streets. This is very much part of the ethos of the new market too.
"The legacy of the existing market will live on in the new market, both in terms of the well-known and well-liked traders that transfer over, and in its entrepreneurial spirit. Markets are successful when traders, the council and residents work together to create something better than we can achieve alone. I hope we can continue to nurture this in the future and create a truly amazing market which is good for business, good for the city and good for the community too."
"I look forward to further announcements of additional traders that will enable us to expand the diverse range of produce and goods on offer alongside the wonderful food, beverage, goods and produce traders we have identified so far."
To apply for a place in the new market, traders were asked to complete an application form and provide evidence of their trading history or provide an optional business plan. Each application was scored against a wide set of criteria which included their experience, marketing strategy and business viability; in order that the process could be as fair and equitable as possible.
The evaluation panel was made up of the Council's Markets Team and independent external advisers.
The Council is obliged by law to achieve best value in all its property transactions and the evaluation process ensured that this obligation could be met.
For those traders that were unsuccessful, individual feedback was offered on their application. The Council has alternative markets or retail premises that can be offered to help relocate existing traders or offered to new applicants.
Although a number of existing traders did not apply for a place in the new market, some have taken the opportunity to use the market as a springboard to opening their own high-street premises or consolidate into more direct to customer businesses, whilst a small number have elected to retire rather than move to the new market.
The Council will offer support to any trader that did not wish to apply for a stall in the new market and help them plan their future beyond the closure of the existing market when the new market opens in summer 2022.
Further details of the successful trader line-up will be announced once their leases have been concluded.
The vision for the new market and a manifesto is to be a 'modern traditional market' to build on the rejuvenation of the existing market and amplify the experience with more variety and more space to enjoy it all. For more details see: www.newchester.market