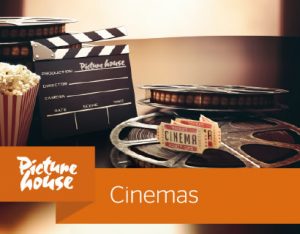 Picturehouse is to be the operator of the new six-screen cinema within the major Chester Northgate development following exchange of a lease agreement with Cheshire West and Chester Council.
Formed in 1989 to challenge the multiplex model, Picturehouse Cinemas own and operate 23 cinemas and programme a further 45 venues across the UK – in places such as Bath, Cambridge, Edinburgh, Liverpool, London, Oxford and York, with the Duke of York's Picturehouse in Brighton being Britain's longest continually operating cinema, having first opened in 1910.
Picturehouse Cinemas seek to set themselves apart from their main multiplex competitors by incorporating café bars, restaurants and live events alongside traditional movie-going. The company pioneered live satellite cine-casts showing events from around the world and is now a leading UK distributor of event cinema content, including plays from Royal Shakespeare Company, Royal Opera House, National Theatre, Kenneth Branagh Live and many more.
Picturehouse Managing Director, Lyn Goleby, said: "We have wanted to operate a cinema in Chester for many years and this location in the heart of the city will give us a very central location to create a vibrant hub of film-related activity. Our programme will cover mainstream and world cinema and a wide range of cultural content. We very much look forward to opening and hope that Picturehouse will make a big contribution to the life of the city centre."
Councillor Brian Clarke, Cabinet Member, Economic Development and Infrastructure said: "Picturehouse stood out from the competition because of its sheer enthusiasm for running a cinema in Chester and the programming offer it proposed. I'm looking forward to welcoming them to the city, they will form a major part of the exciting Northgate development."
Councillor Stuart Parker, Shadow Cabinet Member, Communities and Wellbeing said: "Chester has waited a long time for the return of a cinema to the city centre. I'd also like to welcome Picturehouse, they will be adding another fantastic attraction for both residents and visitors.
The six-screen cinema will provide more than 715 seats, on the upper levels of the scheme, with a ground-level foyer and café bar opening onto the new Market Square and Hunter Street.
Complementary to the new cultural centre, Storyhouse – comprising an 850-seat theatre, library and 100-seat arts cinema – Picturehouse will help to deliver a high-quality leisure offer along with the surrounding cafés, bars and restaurants, which provide a strong point of difference to Chester's competitors.
David Lewis of Rivington Land, development manager for Chester Northgate, said: "Securing Picturehouse as the leisure anchor represents an important milestone in the delivery of Chester Northgate. The quality of their operation will raise the bar of the leisure offer in the city. The level of interest shown from the cinema market and now subsequently by the food and beverage operators shows what confidence occupiers have in Chester as a strong trading location. Significant and tangible progress on the delivery of this scheme is building nicely in a market place bereft of many new high-quality, retail-led developments."
With the planning application for the development having been submitted at the end of May, it is anticipated that the planning decision will be made later in September. If the scheme gets the go-ahead, construction of the first main phase is programmed to begin in early 2018, with the cinema, adjacent hotel, new market, cafés and restaurants anticipated to open in late 2019.