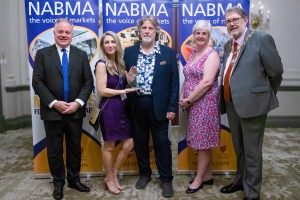 Chester Market is officially the best new market in the country according to the National Association of British Market Authorities, NABMA, which has recognised the new market in its annual achievement awards.
NABMA have been the national voice of markets for over 100 years and made the award at their annual conference in Harrogate. The judges hailed the approach taken by Cheshire West and Chester Council in its commitment to developing the new Chester Market which opened less than a year ago in November 2022 as part of the Northgate phase one development.
The special award highlighted how the new market stood out in terms of management, achievement, investment and innovation; whilst also praising the market's branding as distinctive, memorable, and exuberant.
NABMA concluded that Chester's new market represents a fresh and dynamic market fit for the future, which sets the highest standards for the city and the markets industry itself. Celebrating the diversity of the local community, within a unique 'modern traditional' market, offering a vibrant range of traders – where you can shop local and eat global.
Taking inspiration from the best of markets around the world, the new market was conceived with a strong focus on experience led retail. By embracing the challenges of the decline in traditional retailing, the Council focussed instead on creating a market combining a wide choice of goods, food and fresh produce rather than opening a foodhall only market.
Extensive consultation with stakeholders ensured that the new market is inclusive, accessible and culturally diverse.
David Preston, Chief Executive of NABMA said: "The NABMA Awards are a celebration of the best and brightest in the market business. The new Chester Market is a shining example of the dedication and innovation that is making a real difference to the lives of its customers, employees and traders."
Councillor Nathan Pardoe, Cabinet Member for Inclusive Economy, Regeneration and Digital Transformation, said: "The success of Chester Market is made possible by its fantastic traders and the commitment of the Council to deliver its vision for Chester Northgate.
"Congratulations to the Chester Market team, this award is very well deserved and recognises all their hard work and strong partnership with the traders. The team have established what is now acknowledged as the country's benchmark for city centre markets."
For more details see www.newchester.market
For more details about the NABMA Awards see: https://nabma.com/market-award-winners-2023-announced-at-annual-conference/
Caption: L-R are Simon Baynes MP – Chairman of the All Parliamentary Markets Group, who presented the award to the Council's Adele Thomas – Chester Market Manager and Rob Monaghan – Strategic Markets Manager with Katherine Brown from Award Sponsors Blachere Illumination and Councillor Chris Poulter, President of NABMA.