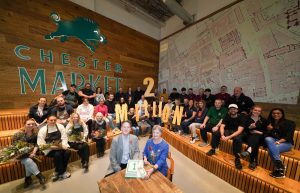 Chester's new market is marking its first birthday on 11 and 12 November with a weekend of celebrations and fundraising.
Visitors will have the opportunity to Spin to Win free Chester Market merchandise and help raise funds for the End Homelessness in Chester charity. Plus, free Market tote bags are available from the market's goods and merchandise traders when spending over £30.
The Spin to Win wheel will be available between 10 and 11am and 3 and 4pm on both Saturday 11 and Sunday 12 November.
Since opening a year ago, the market has now welcomed over two million visitors and helped create or safeguard more than 150 jobs, whilst picking up many awards and commendations for both the market as a whole and for its traders.
Over the past year, 2,500 pairs of glasses have been dispensed by Pop Specs the market's opticians, 60,000 pizzas have been served by the Mercato Pizza Co. and Purely Pots have sold almost 20,000 plants. Meanwhile Geoff Hughes Family Butchers estimate that more than 1,000 sausages have been handmade in the market every week.
Awards have included for planning for a successful economy, customer service, construction and recently the National Association of British Market Authorities presented its highest accolade to Chester in its annual market industry achievement awards.
Councillor Nathan Pardoe, Cabinet Member for Inclusive Economy, Regeneration and Digital Transformation, said: "The new market has exceeded our expectations in spectacular style, becoming a much-loved destination for residents and visitors alike. The market is here to serve Chester, and I want to say a big thank you to our loyal customers for helping to make it such a success and supporting our incredible traders.
"In recent weeks the market has welcomed The Crystal Hut and the Sheng Hai Oriental Supermarket, meaning customers are able to visit the market for an even wider range of merchandise and delivering on our mission to deliver a traditional yet modern market for Chester.
"The hard work and dedication of our traders and market staff has certainly paid off and reaching two million visits within our first year really has been the icing on the birthday cake!"
The new market is operated by Cheshire West and Chester Council and is the cornerstone of the Northgate development phase 1, which has become a major leisure attraction in the heart of Chester's historic city centre and includes a six-screen Picturehouse Cinema, restaurants, 800 space car park, four office suites and a new public square.
For more details on the new market see www.newchester.market
End Homelessness in Chester is a collaborative project between Chester BID, Cheshire West and Chester Council, Chester Aid to the Homeless, Share, Soul Kitchen and The Chester Bluecoat Charity.  The project was established to raise charitable donations in our increasingly cashless society and also to address a public desire to support those experiencing homelessness alongside a reluctance to donate to those people directly. More details: End Homelessness in Chester – The Chester Bluecoat Charity
Caption
Cllr Pardoe and Cllr Sheila Little, Lord Mayor of Chester; with staff and traders at Chester Market in the newly reopened Heritage Corner.